Maine is one of the most underrated places to get married. Its beautiful landscape is among the most fantastic in New England and includes many unique wedding venues you may love.
However, deciding where to get married in Maine requires a lot of research and may be challenging for some people to do across the country. What can you do?
Read our list to discover which Maine wedding venue is the best option for your needs.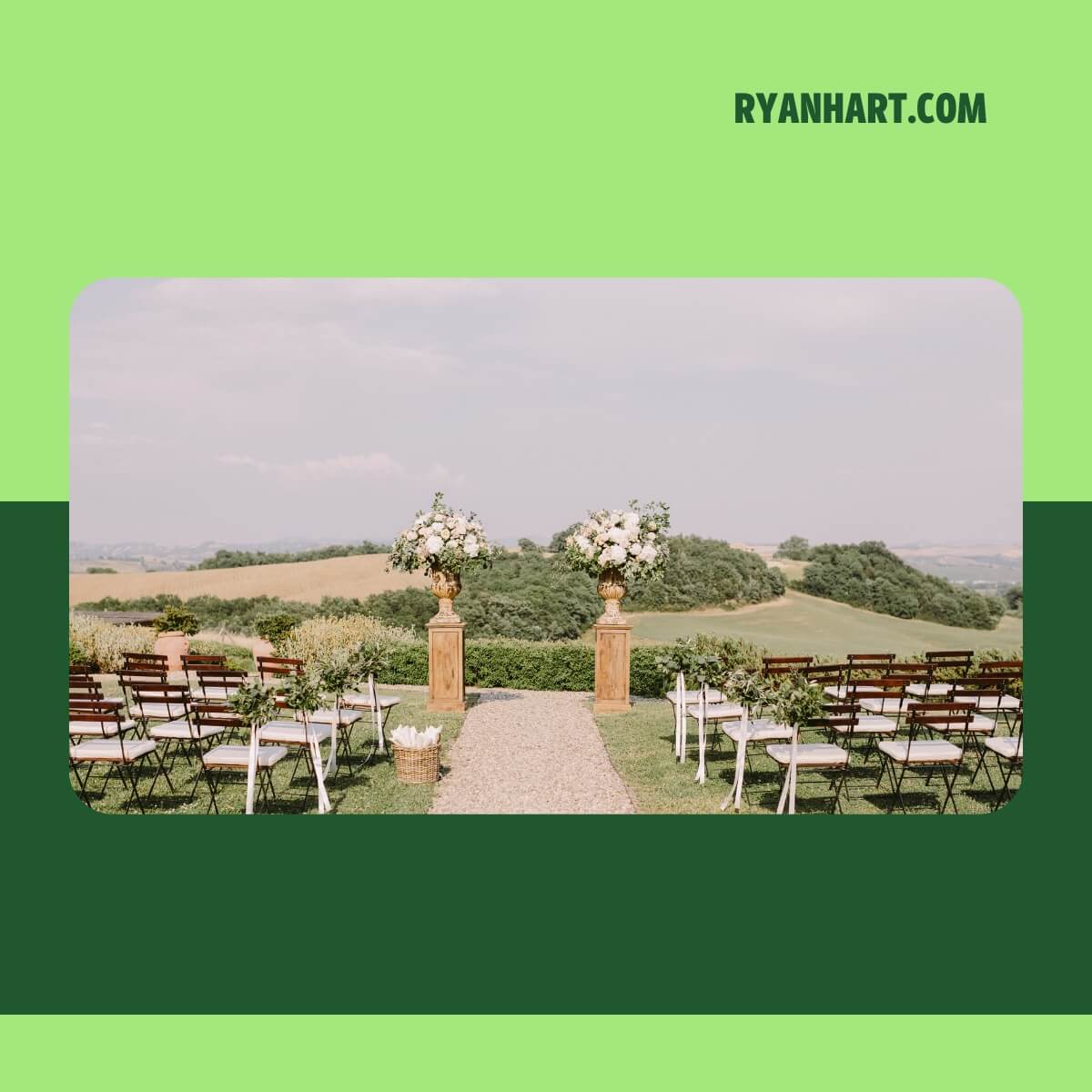 Where is the best place to get married in Maine?
The best Maine wedding venues should have iconic architecture, gorgeous landscapes, high-quality planning help, outstanding support from catering teams, and much more.
Here are the top 10 wedding venues in Maine: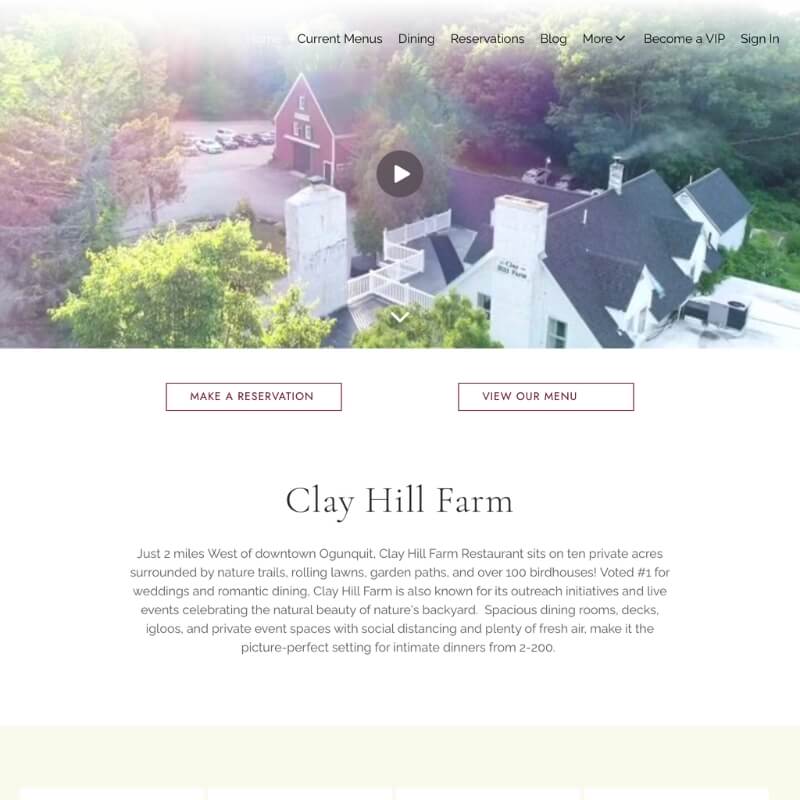 Clay Hill Farm is a gorgeous Maine destination venue with multiple benefits that make it more than worth your time.
How about rehearsal dinners? Black-tie events? Backyard ceremonies? Micro-weddings with just a few people? A fully catered event? Clay Hill Farm provides all these benefits in a gorgeous farm atmosphere you'll never forget.
Who will love this venue:
Like most Maine wedding venues, this option includes beautiful landscaping and outdoor ceremony options. We think you'll love it if you want the most gorgeous and rural-style wedding possible in Maine. Its prices? More than fair for what you get!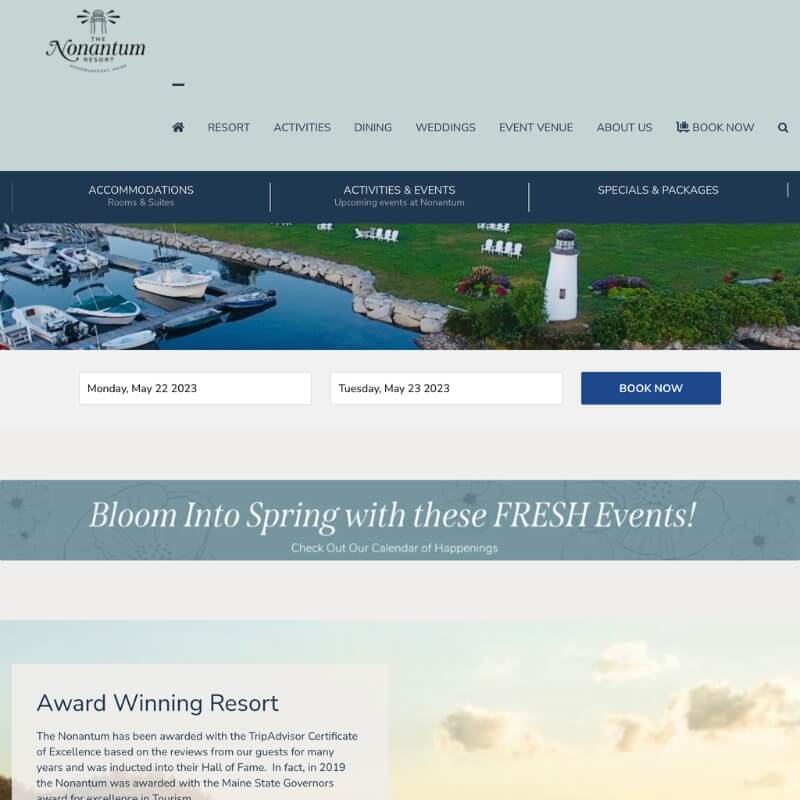 The Nonantum Resortcan provide a beautiful Maine-style wedding right on the ocean that your whole family will love. There are multiple rooms and suites that you can rent for your event, including numerous large halls where you can host your dinner.
Nonatum has the outdoor atmosphere you want in the best Maine wedding venues and planning support for your needs.
Who will love this venue:
Do you need a little help planning your wedding? This option might work best for you. It's particularly significant if you want a destination wedding where your whole party can stay. It's the kind of experience you simply can't get in any other way at the prices they charge.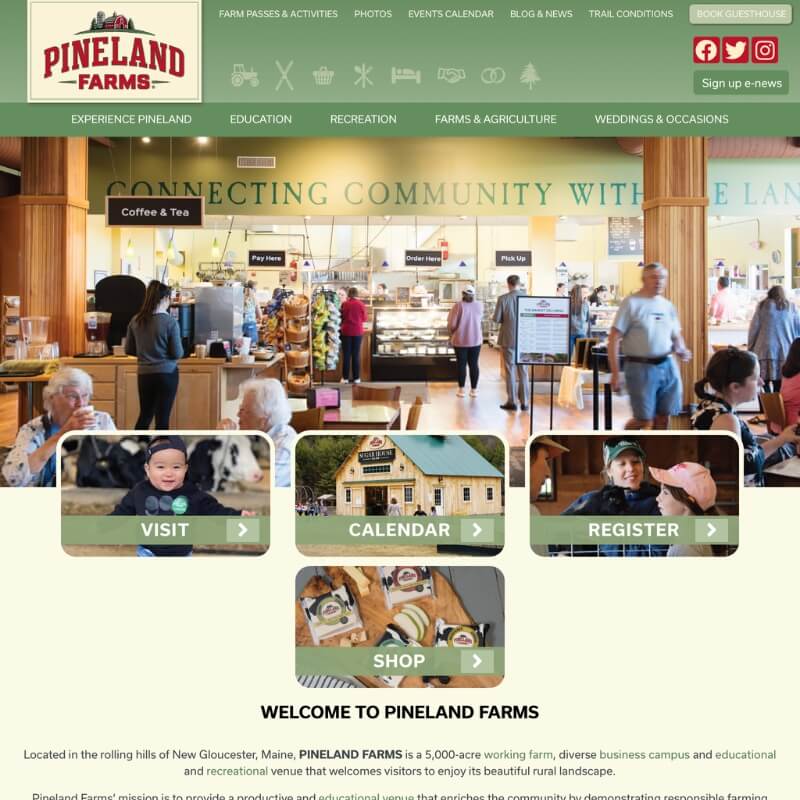 Pineland Farms is a peaceful rural setting with a gorgeous farmhouse and real farm animals, making this a truly unique experience. You can get married next to friendly cows or take your vows however you want.
They can help with cocktail parties, outdoor barbecues, and even reasonably large weddings. Typically, they cater to smaller and more intimate experiences.
Who will love this venue:
Anyone who wants a genuinely rural Maine experience will fall in love with this location. Unlike other Maine wedding venues, this is an actual operational farm, which gives it a unique atmosphere. So if you're someone who loves the smell of farmland, try this destination.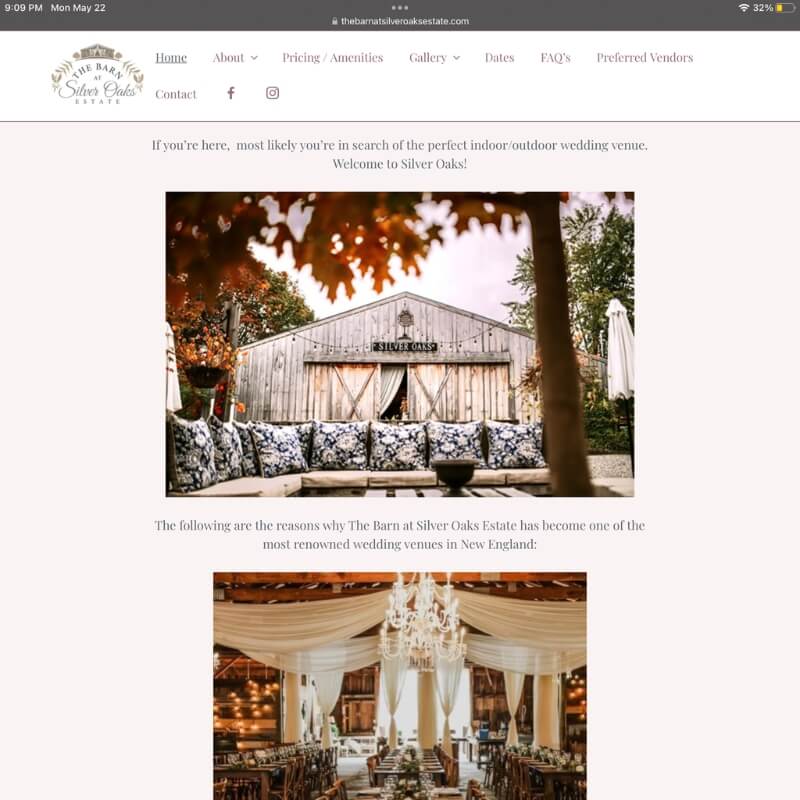 The Barn at Silver Oaks Estate truly lives up to its name: it's a large, modern barn with an attractive open-space design. It includes a wedding ceremony area, a reception hall, catering options, plenty of space for your guests, and much more.
It's the kind of venue that feels old-fashioned while still providing the modern amenities you want.
Who will love this venue:
We strongly suggest this venue to anyone who's seen a barn wedding and wants an experience just like it of their own. The beautiful and well-maintained barn creates the rustic style you want without making your wedding seem too old-fashioned. It's a delicate balance to hit.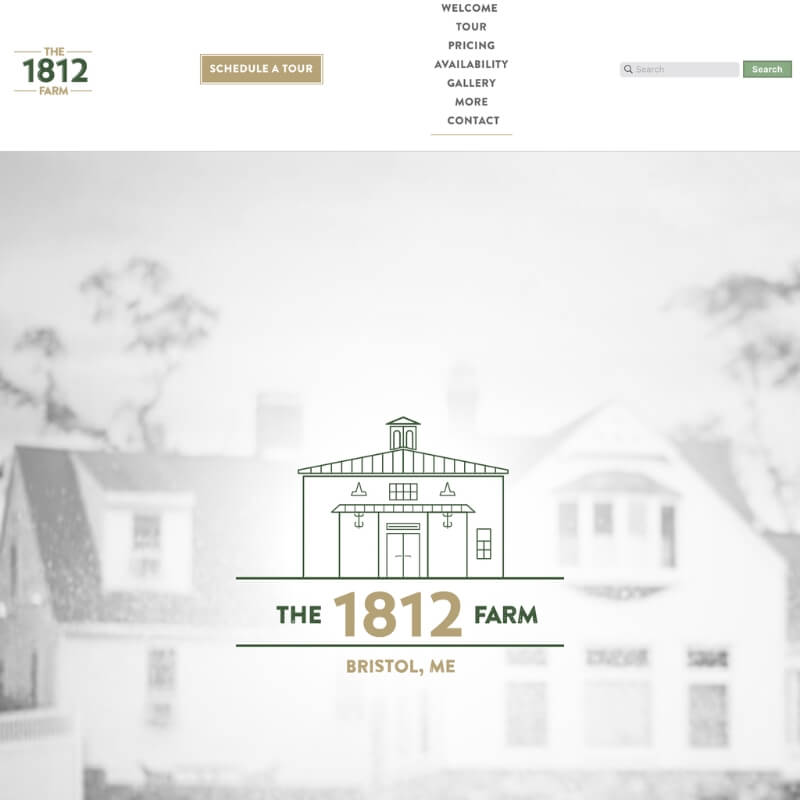 Have you ever tried to book Maine wedding venues and found that they weren't open all year round? 1812 Farm is open all year and has three acres with a maximum guest size of 200 people.
You can seat 150 people in the comfortable barn and don't have to rent porta-potties: there are six indoor bathrooms and two bars. Talk about taking care of your needs!
Who will love this venue:
If you're planning a winter wedding but can't find a Maine venue to suit your needs, try this spot. However, it works just as well for summer ceremonies too! It's more than just a backup option for winter marriages: it's a beautiful destination worth considering.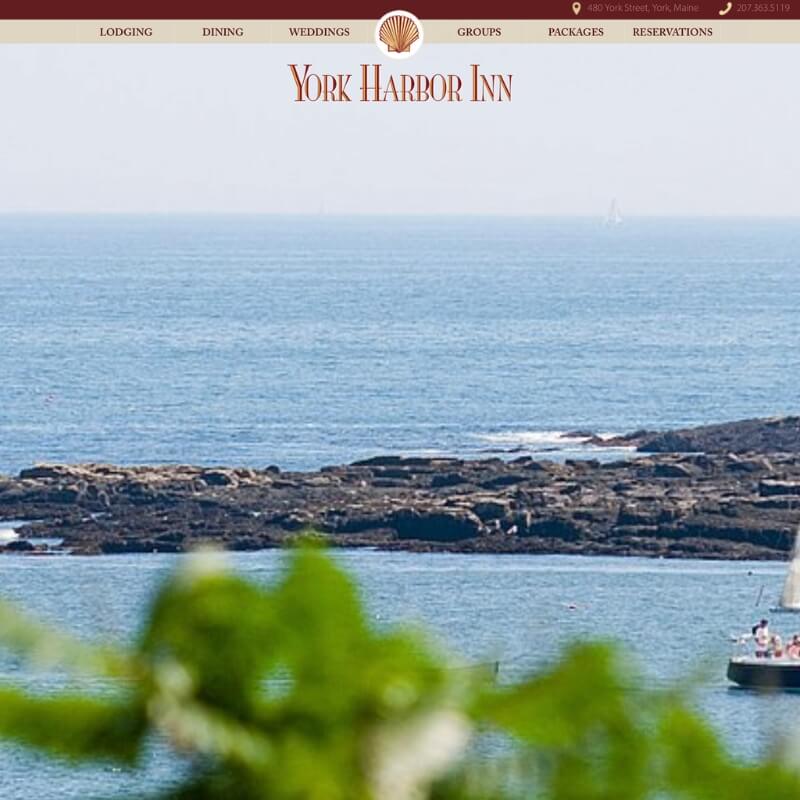 York Harbor Inn is a historic, 65-room hotel with a beautiful 3,000-square-foot ballroom with a 35-foot cathedral ceiling.
You also get wedding reception support, rehearsal dinners, oceanside ceremonies, spectacular ocean views, a comfortable beach, a pub, boating, fishing, swimming, and so much more. They can take care of you at York Harbor Inn!
Who will love this venue:
Are you exhausted planning your wedding and want a Maine wedding venue that will take care of it for you? Try York Harbor Inn. Unlike other Maine wedding venues, they'll handle just about everything, including helping you set up high-quality photography.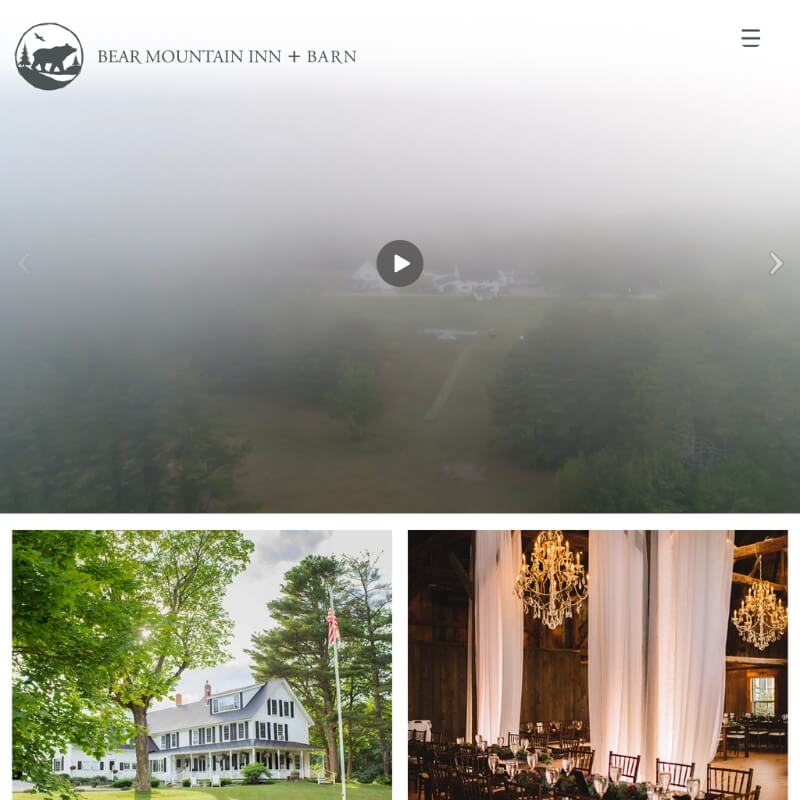 Bear Mountain Inn + Barn provides an immersive wedding experience that includes rehearsal dinners, honeymoon support, food, catering, and attractive receptions on a rural Maine property.
They can help you with elopements, as well, and will provide a private and intimate atmosphere for the smallest ceremonies. That makes them an excellent option for just about any couple.
Who will love this venue:
Try this destination if you have a large wedding in mind, as it can host up to 250 people. It's also a great option if you want to have fun exploring the area: take to the 25-acre property, and you'll find unique destinations that you can't at other Maine wedding venues.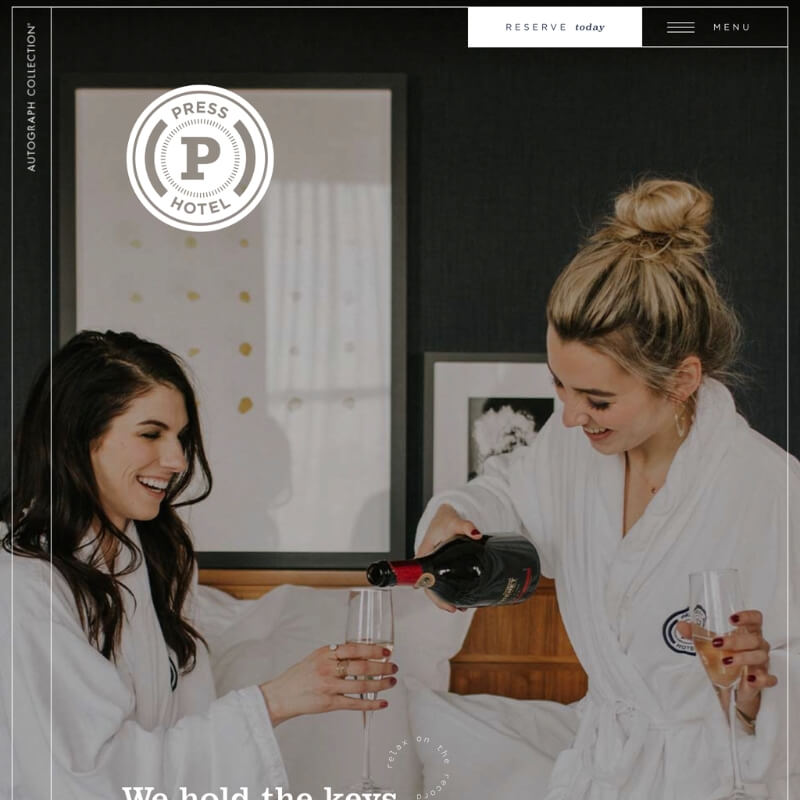 The Press Hotel is an expansive property with four different gathering spaces ranging in size from 300 to 1,000 square feet. As a result, you can choose whatever size you need and even integrate beautiful art into your ceremony.
Even better, they help with your catering planning and will provide delicious food consistently voted the best in Maine.
Who will love this venue:
Are you looking for a hotel that goes above and beyond luxury? Try The Press Hotel. While other Maine wedding venues provide gorgeous landscapes and high-quality planning, The Press Hotel is just a little bit better and works well for anyone who can afford it.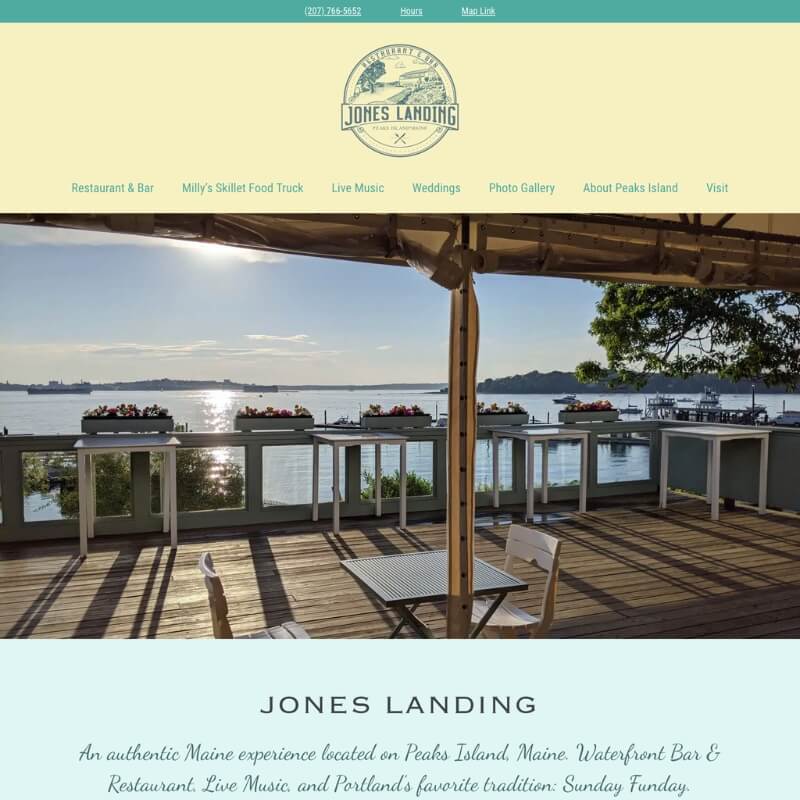 Jones Landing is a respected waterside event destination that hosts weddings and many other events. Their outdoor ceremonies include a water view, an attractive waterfront deck, and reception support, including catering help.
They even have live music, a food truck, and a restaurant and bar where you can relax after your ceremony if you like.
Who will love this venue:
Jones Landing is a more low-key and intimate experience that suits people on a smaller budget. This doesn't mean that it's cheap or shoddy: instead, it offers a high-quality but affordable wedding experience that helps it stand out from other Maine wedding venues.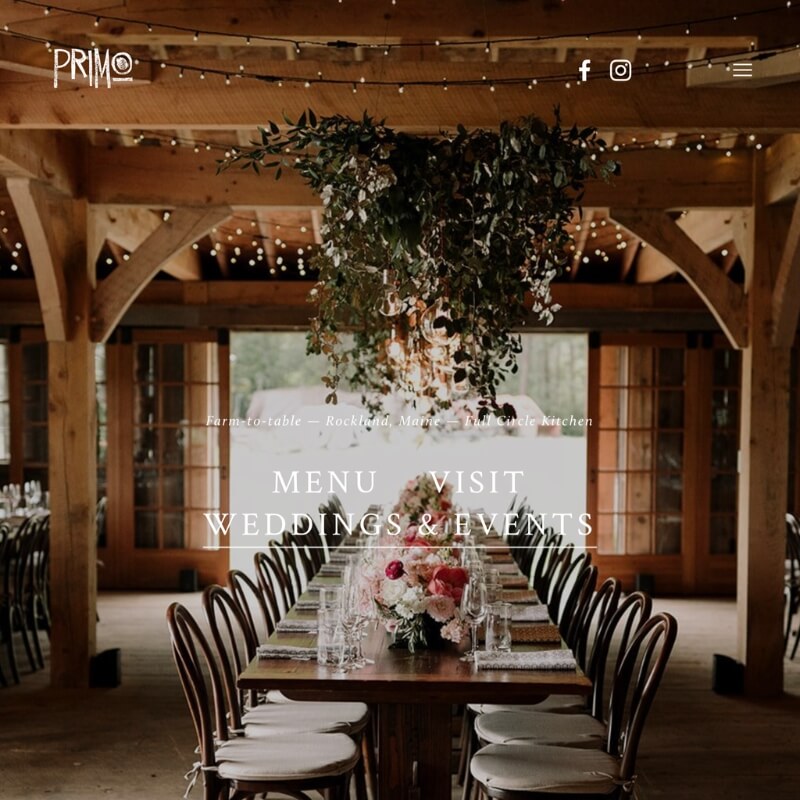 Primo is a popular restaurant and event location that provides great support for weddings! They're situated on a private, four-acre organic farm that literally brings ingredients from their fields to the kitchen for your event!
You'll get the chance to walk through these beautiful gardens, taste some delicious snacks, and choose a menu that works for you.
Who will love this venue:
Interested in a more low-key venue that won't cost an arm and a leg to rent? Primo is an excellent choice for you! They include an attractive barn, a beautiful landscape, and organic food you'll love. It's really that organic dining experience that makes the difference.
What is the average cost of a wedding venue in Maine?
The average cost of a wedding venue in Maine can vary depending on the location, date, and services included. However, you can expect to pay anywhere between $3,000 to $10,000 for a wedding venue in Maine.
Venue costs can also include things like tables, chairs, linens, and other decorations. Keep in mind that these additional services and fees will be additional expenses on top of the venue cost.
Can I bring my own caterer to the wedding venue?
Some wedding venues in Maine offer in-house catering services, while others allow you to bring your own caterer. It's best to check with your chosen wedding venue to know their catering policy.
You may also want to consider what type of food you would like served at your wedding. Many venues offer a wide variety of menu options, so make sure to ask your caterer about the types of dishes they specialize in before making a final decision.
Can I have an outdoor wedding ceremony in Maine?
Yes, you can have an outdoor wedding ceremony in Maine. Maine has beautiful outdoor wedding venues, such as beaches, gardens, and forests. Many venues offer outdoor weddings in Maine year-round, making it a great option for couples from all over the world.
Before planning an outdoor wedding in Maine, make sure you check with local regulations and restrictions to ensure everything is compliant.
Do these wedding venues offer planning services?
Some Maine wedding venues offer wedding planning services as part of their wedding packages.
However, if your chosen venue doesn't offer planning services, you can hire a local wedding planner. They are often able to provide invaluable advice and assistance in making your wedding day a success.
There are many different types of wedding planners available, from full-service professionals to freelance consultants. Whatever type of planner you decide on, it's important to make sure that they have plenty of experience with weddings and can understand what you're looking for.
Bottom Line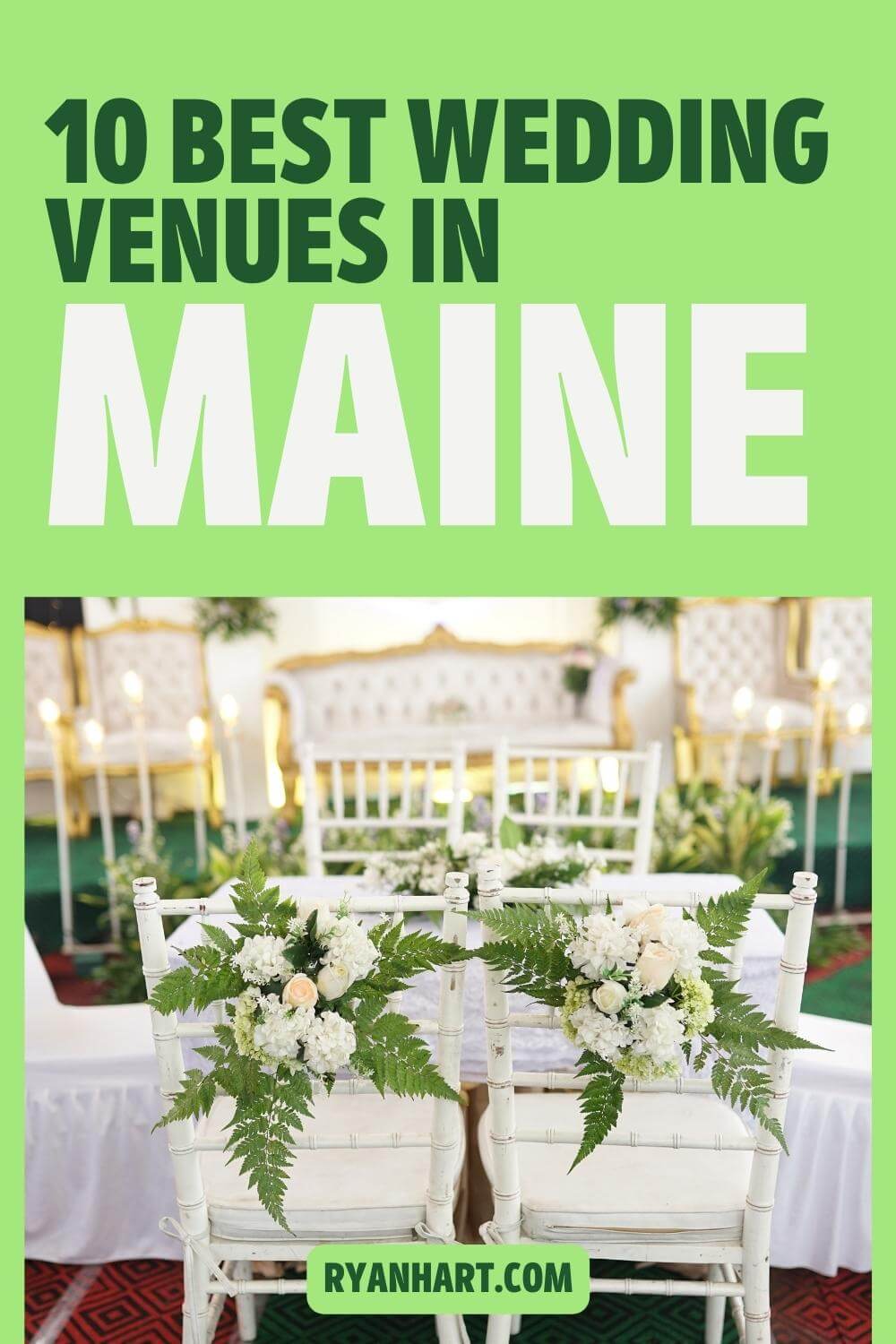 Maine is truly a treasure trove when it comes to wedding venues. With its stunning coastline, breathtaking mountains, and charming towns, it provides a backdrop for weddings that is hard to beat.
Whether you dream of a rustic barn wedding, an elegant event in a historic mansion, or a relaxed celebration on the beach, Maine has a perfect venue. Remember, the most important thing is that your wedding venue feels right for you and your partner. After all, your wedding day is a celebration of your unique love story.